Satvam Dhokla Instant Mix 200g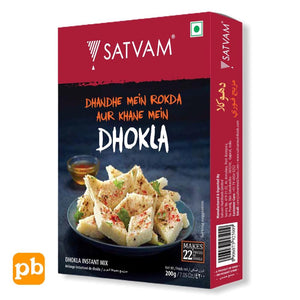 Satvam Dhokla Instant Mix 200g
Dhokla is a traditional snack prepared from chickpea flour with added curd, herbs and spices, popular in Gujarat and some parts of India. The chick peas are soaked in water overnight and are then ground and allowed to ferment for 6-8 hours.
Dhokla recipe involves preparing chickpea paste and fermenting it overnight, which is a little complex procedure for preparing batter. This batter is then steamed in the shape of thin cake and is then seasoned after that. But with Satvam Dhokla Instant Mix, you don't have to go through any of them to prepare yummy Dhokla.
Steamed Dhokla is widely available as street snacks and is also prepared in individual houses using Dhokla Instant Mix.

Ingredients
Rice, Black gram flour, bengal gram flour, iodized salt, raising agent (E 500(ii)), Acidity regulator (E 330), Sugar
---
We Also Recommend