Satvam Dahiwada Instant Mix 200g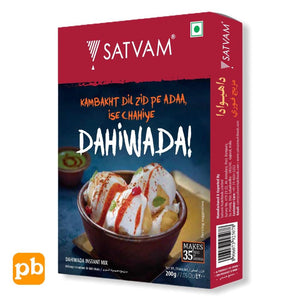 Satvam Dahiwada Instant Mix 200g
Dahi Vada is a snack dish prepared using fried flour balls and flavored curd. There are references about Dahi Vada in centuries old encyclopedia in India which reaffirms its historical existence in Indian culture. Small balls are prepared using lentil flour and they are deep fried in hot oil. These nuggets called Vada are then soaked in water to make them softer and they are soaked in flavored curd and are served with chutney.
Dahi Vada is consumed as appetizer as well as snacks. Making Vada from special lentil flour is an extensive process but with Satvam Dahi Vada Instant Mix, you can easily prepare within minutes.
Dahi Vada is usually available as street food as well as in restaurants, Dahi Vada are also prepared in individual households often. It is called by different names in different regions of India because of the different names of curd.

---
We Also Recommend