Satvam Basundi Instant Mix 200g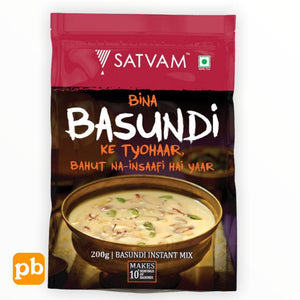 Satvam Basundi Instant Mix 200g
Basundi is a sweet dish popular in northern and western parts of India and it is also known as Rabdi in some regions. Basundi is milk based dish which is sweetened using sugar and flavored using different dry fruits and seasoning like saffron, and is usually served cold.
The recipe for Basundi involves condensing the milk by heating until it is reduced to half; sometimes milk cream is also added to make the milk condensed. Making Basundi is easier with Satvam Basundi Instant Mix because you don't have to go through the process of condensing the milk first.
Basundi is usually prepared in family celebrations, and also in weddings; it is usually available in sweet shop but not in restaurants. Buy Satvam Basundi Instant Mix to experience the authentic and consistent taste of Basundi every time.
Ingredients
Skimmed milk powder, sugar, Corn starch, Almond, Cardamom, pistachio, Nutmeg powder, Saffron, Permitted natural & artificial flavoring Agent, Permitted natural Color, Antioxidant (E320)
---
We Also Recommend