Satvam Upma Instant Mix 200g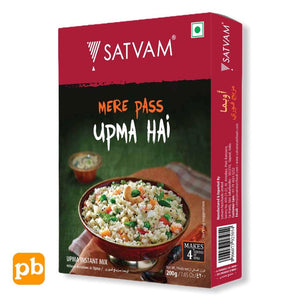 Satvam Upma Instant Mix 200g
Upma is one of the most popular dishes in India. Upma is synonymous with south Indian cuisines but it is widely prepared in homes and restaurants across India. Upma is a pancake made from fermented rice flour and black gram based batter; the pancakes could be thick or thin, as per the individual preferences.
The Upma rice and black lentils are soaked overnight and then are ground to make a past which is then allowed to ferment overnight. The ready better is spread evenly on the frying pan and Upma is served hot with vegetable and Sāmbhar.
The extensive preparation for Upma batter can be minimized using Satvam Upma Instant Mix, which gives you the finest Upma with consistency and quality.
Ingredients
Semolina, Hydrogenated Vegetable Fat, Iodized Salt, Black Gram Split, Sugar, Black Mustard, Dehydrated Green Chilli, Curry Leaves, Acidity Regulator (E330), Dry Ginger, Compound Asafoetida.
---
We Also Recommend