Satvam Methi Gota Instant Mix 200g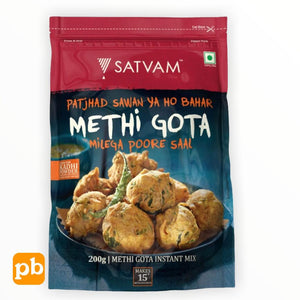 Satvam Methi Gota Instant Mix 200g
Methi Gota is the most popular snack dish in Gujarat, available in almost every village and city. Methi Gota are almost the same as regular gota, except they have dried fenugreek leaves added in the chickpea flour batter, which gives the gota a unique flavor and slightly bitter taste.
The biggest trouble with preparing Methi Gota is the availability of methi or fenugreek leaves, as it is a seasonal plant. Traditionally these leaves are sundried and stored for using it later in cooking. But rather than going through such extensive process, you can buy Satvam Methi Gota Instant Mix, and prepare delicious Methi Gota instantly.
Methi Gota is also a street snack and it is not usually available in restaurants. To prepare delicious Methi Gota, buy Satvam Methi Gota Instant Mix and make them yourself easily.
Ingredients
Bengal gram flour, Sugar, Iodized salt, refined cottonseed oil, Dry fenugreek leaves, Raising Agent (E 500(ii)), Acidity regulator (E330), Chili powder, Coriander seeds, Black pepper, garam masala powder, Asafetida, Turmeric powder (E 100(ii))

---
We Also Recommend