Satvam Khaman Instant Mix 200g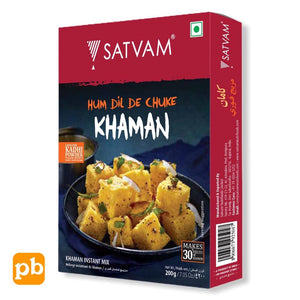 Satvam Khaman Instant Mix 200g
Khaman is a very popular dish in Gujarat which is synonymous with the Gujarati cuisines. The batter for making Khaman is prepared using the chickpea flour and curd, along with added spices and herbs. Khaman recipe involves thick fermentation for the unique fluffy texture.
The batter is usually set aside for at least 4-6 hours for fermentation, and is steamed in the shape of a cake to prepare Khaman with a smooth nylon like texture. The cake is then cut into pieces and the pieces are garnished using herbs and salts fried in oil.
Khaman is available as street snacks but is rarely available in restaurants. Preparing Khaman is not so easy but with Satvam Khaman Instant Mix, you can prepare delicious Khaman within minutes.
Ingredients
Bengal gram flour, Sugar, Iodized salt, Acidity regulator (E330), Raising agent (E500(ii)),Turmeric powder
---
We Also Recommend