Satvam Handvo Instant Mix 200g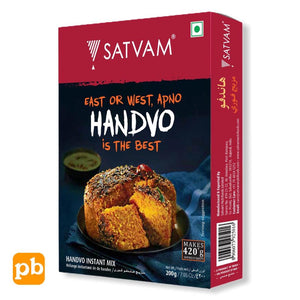 Satvam Handvo Instant Mix 200g
Handvo is a traditional Gujarati cuisine popular throughout western India. It is a very common dish prepared by Gujarati families worldwide. Handvo is prepared using a fermented batter made from flour and vegetables, baked in a specially designed cooker or regular pan to prepare a cake.
Handvo is a dish consumed as snacks as well as main course. Preparing the batter for Handvo is a little difficult task as it involves fermentation. But with Satvam Handvo Instant Mix, you can prepare Handvo within minutes; that too with so much ease.
Handvo is usually available as street food but it is not often available at restaurants. However, Gujarati families often do prepare Handvo at home.

Ingredients
Rice, Bengal gram flour, Black gram flour, Split pigeon pea flour, sugar, Iodized salt, Chili powder, Acidity regulator (E330), Raising agent (E500(ii)), turmeric
---
We Also Recommend