Satvam Gulab Jamun Instant Mix 200g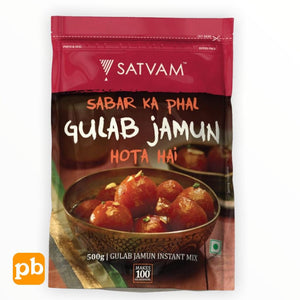 Satvam Gulab Jamun Instant Mix 200g
Gulab Jamun is one of the most popular Indian sweets which are now slowly getting popular throughout the world. It is a milk-solids based preparation which is mixed with flour and is then deep fried in the shape of small balls. These fried nuggets are then soaked in sweet syrup (sometimes cardamom or rose flavored).
Gulab Jamun is frequently consumed in festivals, marriages, and celebrations. Gulab Jamun is a little complicated to prepare but with Satvam Gulab Jamun Instant Mix, you can now prepare Gulab Jamun with so much ease.
Gulab Jamun is served hot or cold along with dry fruits garnishing. There are several variants of Gulab Jamun available in India as the recipe is altered as per people's cultural inclination. One variant is called 'Kala Jam', the other is called 'Jhurre Ka Rasgulla', and in one variation the Gulab Jamun are mixed with a tomato based curry to make 'Gulab Jamun ki Sabji'.
Ingredients
Skimmed milk powder, refined wheat flour, Semolina, Hydrogenated vegetable fat, raising Agent (E 500(ii)), Acidity regulator (E 330)
---
We Also Recommend