Quality Extra Long Basmati Rice 8lb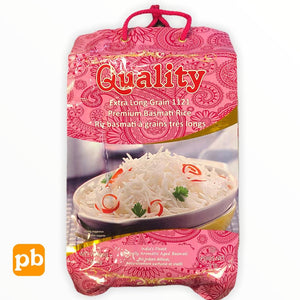 Quality Extra Long Basmati Rice 8lb
More than two thousand varieties of rice are growth throughout the world.  It is undoubtedly one of the most important staple food in many countries.  India contributes numerous finer varieties of rice and countless rice recipes and this tantalizing taste of Indian cuisine is brought to you by 507 GOLD Indian Basmati rice.  
It is sourced from fertile foothills of the Himalayas and has a distinct flavor and aroma that makes it the choice of gourmets.  We bring you pick of the crop that is well processed and matured.  This delicious rice is sure to be superior in taste and texture.  This quality rice is perfect for a delicious biryani that would even suit everyone's budget.
Available packing in 8lb.

---
We Also Recommend