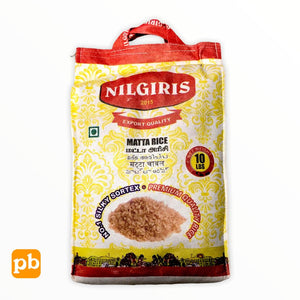 Nilgiris Matta Rice 10lb
Matta rice (also known as Rosematta rice, Vadim Matta Rice, Palakkadan Matta rice, Kerala Red rice, or Red parboiled rice) (Malayalam: കേരള മട്ട) is an indigenous variety of rice grown in the Palakkad district of Kerala, India. It is known for its coarseness and health benefits. It is popular in Kerala and coastal Karnataka in India and Sri Lanka where it is used on a regular basis for idlies, appams and plain rice; it is different from brown rice. The robust and earthy flavor of Red Matta makes it suitable to accompany lamb, beef or game meats.
Preparation
Parboiled rice is harder than white rice and needs some thirty minutes of soaking before cooking.

Matta rice is traditionally double cooked.

The rice is washed in a large pan and left to soak from 1 hour to overnight. The rice is drained and simmered with 4 to 8 parts water for 30 minutes. It is then covered and left for 15–20 minutes. The rice is then salted and boiled for another 15–20 minutes or until cooked. It is finally drained and left covered for a further 10–15 minutes before serving.
Nutritional Benefits
Matta rice is more nutritious than white polished rice because parboiling before milling retains some nutrients. One serving cup of 1/4 size can contain 160 calories and 1 gram of fiber. White rice doesn't contain any fiber. The brown outer layer of the Matta rice contains many nutrients and white rice is made by polishing away this valuable layer. One cup of Matta rice can contain 84 milligrams of magnesium and one gram of calcium. It also contains vitamins.
---
We Also Recommend