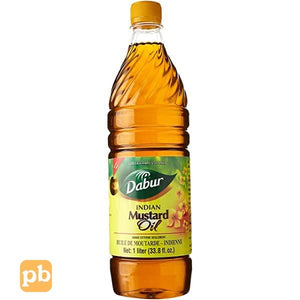 Dabur Mustard Oil 1L
Mustard oil is made from pressing the seeds of a mustard plant to produce a spicy oil. Mustard oil is popular in Eastern cooking, although some American chefs have begun experimenting with the oil, which has a heat and distinctive flavor to it.
Real mustard oil, however, is actually banned for cooking uses by the FDA. This is because it contains an ingredient called erucic acid that has been shown to cause heart problems. Erucic acid is a fatty acid that it is not well metabolized. It's considered a contaminant.
Although the oil hasn't actually been tested in humans, the FDA still does not allow it to be sold for food purposes legally in the United States.
However, the FDA does allow a different type of oil, called mustard essential oil, to be sold for cooking. Mustard essential oil is made from steam distillation of mustard seeds. It's considered safe for use in cooking by the FDA.
Mustard oil and mustard essential oils are completely different types of oil, although they are both derived from mustard seeds. Both mustard oil and mustard essential oil are safe to be used as massage oil. In fact, mustard oil is used extensively in countries such as India without reported negative reactions or harmful side effects.