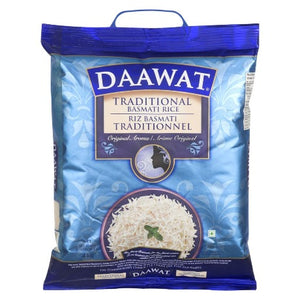 Daawat Basmati Rice 4Kg
Daawat Basmati Rice - Safe Bhi Saaf Bhi. 
This is pure, wholesome basmati. It is tested for 500 impurities like banned chemicals and pesticides.
Cover the pan. Boil 1 cup rice in 1 1/2 cups of water and stir occasionally. Lower heat, cover and simmer for 12-14 minutes. Remove from heat and keep it covered 5-10 minutes.
Nutritional Facts
Energy 349 Kcal
Carbohydrate 78g
Sugar 0g
Protein 8.2g
Total Fat 0.5g
Saturated fat 0.1g
Trans Fat 0g
Cholesterol 0 mg
Sodium 1.7 mg
Dietary Fibre 1.9g
Calcium 7.6 mg
Iron 1.08mg
---
We Also Recommend