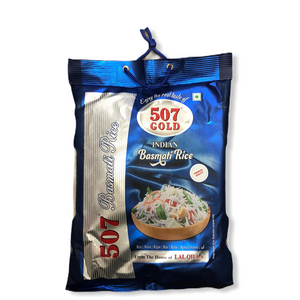 507 Basmati Rice 8lb
More than two thousand varieties of rice are growth throughout the world.  It is undoubtedly one of the most important staple food in many countries.  India contributes numerous finer varieties of rice and countless rice recipes and this tantalizing taste of Indian cuisine is brought to you by 507 GOLD Indian Basmati rice.  
It is sourced from fertile foothills of the Himalayas and has a distinct flavor and aroma that makes it the choice of gourmets.  We bring you pick of the crop that is well processed and matured.  This delicious rice is sure to be superior in taste and texture.  This quality rice is perfect for a delicious biryani that would even suit everyone's budget.

Microwave method
Place 1 cup of soaked 507 GOLD Indian basmati rice in a deep microwave container, add 2 cups of water, add salt if desired.
Cover container loosely with microwave cling film and cook medium or 60% for 10-15 mins.
Allow to stand for 15 mins.
Cooking method

Thoroughly rinse 1 cup of 507 GOLD Indian basmati rice and soak for 30 -45 mins. In lukewarm water.  Add the soaked rice and salt to 2 cups of boiling water. Cook on medium heat until the rice absorbs the water.  Cover with tight lid and remove the pan from fire.   Wait for 10 – 15 minutes & serve.
Note : If the cooked rice is too hard then use more water in next cooking and if the same is too soft use less water.
Available packing in 8lb.
---
We Also Recommend